UHI Moray UK Worldskills gold winning apprentice SECTT presentation
Craig Fairweather, 4th year Electrical Installation apprentice from UHI Moray, picked up gold in this year's electrical installation competition at the #WSUKFinals2022 and was presented with his prizes from SECTT at our Linkwood Technology Centre on Wednesday 7th December.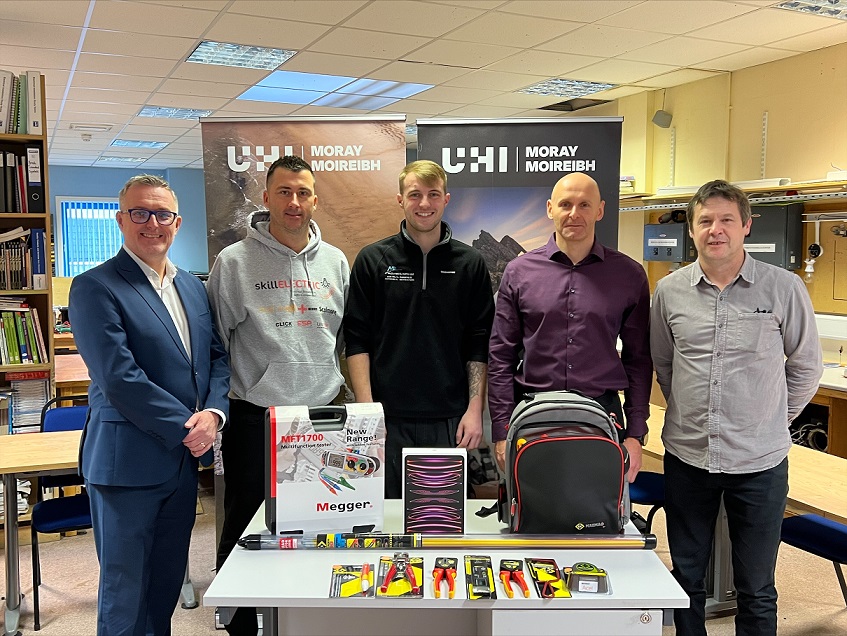 Craig, who was educated at Elgin Academy, and has worked for McDonald and Munro since February 2018, won the top prize in the final against eight other contestants from across the UK at the UK Skills Final competition on the 16th and 17th November 2022.
Scottish apprentices performed particularly well in this year's competition with 4 of the 8 finalists from Scotland.
When asked about his achievement Craig Fairweather responded:
I am delighted to have won the Gold Medal against some really top quality contestants. I want to thank the UK Skills UK for putting on a great event and regardless of the medal situation it was great to be part of it. I want to thank my employer and Iain McBean, Lecturer for giving me the confidence to believe I had a chance in this national competition.
Craig Johnston, Senior Training Officer SECTT and UK Skills Judge, said:
The overall quality produced within the Scottish Heats was outstanding this year. Craig approached the competition in an organised and methodical way and this resulted in excellent standard of work. Craig was a well-deserved winner and we would like to wish him all the nest for the future.
Miguel Gomez, Director, McDonald and Munro, had nothing but praise for Craig, quoting:
Once again congratulations to Craig on his amazing achievement. We knew it was in his ability to do well in the competition and are delighted he came out with the gold medal
Iain McBean, a Lecturer in Electrical Installation here at UHI Moray said the following about Craig.
We are very proud of Craigs achievement. Right from Day 1 Craig was dedicated to his studies and his attitude and commitment have been second to none. This is a great achievement for Craig and UHI Moray to be crowned the best electrical apprentice in whole of the UK and Northern Ireland.