UHI Moray alum awarded historic title
We are delighted for our HNC Healthcare Practice alum, Shirley Catto, who was awarded the prestigious Queen's Nurse Award at an event in Edinburgh on Friday 2 December 2022.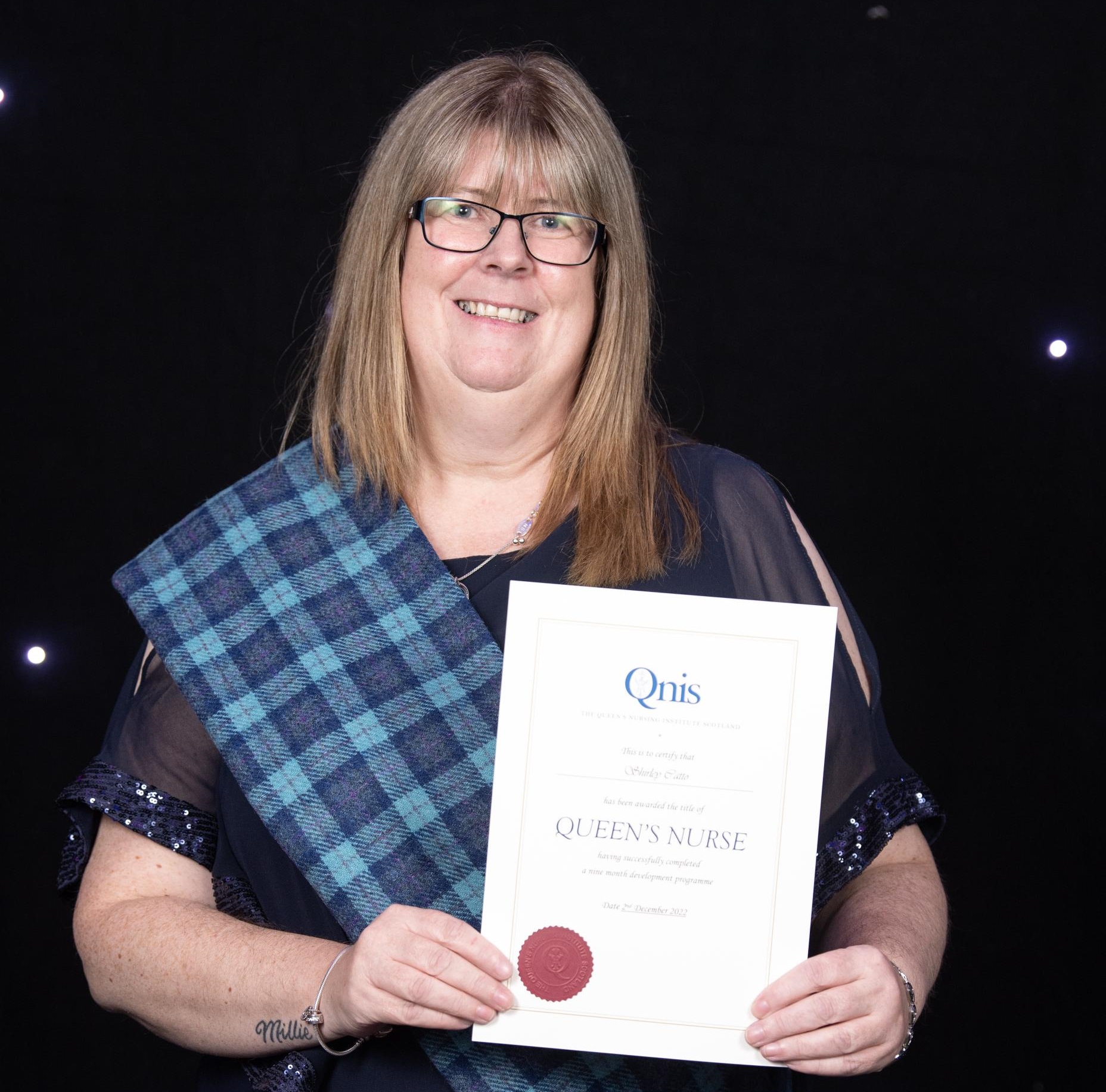 Shirley, who is a Neurology Nurse Specialist at Seafield Hospital in Buckie, completed her HNC with us in 2007 as a mature student which enabled her to apply straight to second year of a nursing degree with RGU. Following in her footsteps, her daughter Libby also completed the HNC Healthcare Pratice course with us in 2019 and is now a Nurse at Dr Grays Hospital.
Shirley was among 20 other community nurses selected to complete the nine-month QNIS programme where participants looked into an issue for development which would have a significant impact on those they care for.
Queen's Nursing in Scotland was initially established in 1889, when nurses completed training to allow them to work as district nurses, and was reintroduced in 2017 as a development programme for nurses who are experts in their field.
We caught up with Shirley to find out more about her experience on the programme:
"I was nominated for the award by my employer, NHS Grampian, for being a role model to my peers and for managing a robust caseload. Queens Nurses demonstrate a high level of commitment to patient care and nursing practice. I would describe the programme as a journey of discovery. It taught me resilience and equipped me with the tools required to challenge boundaries and change attitudes when delivering nursing care in the community. I am overwhelmed by the recognition and awareness that has been raised since getting this award. I am humbled that I have been given this high accolade for doing the work I am passionate about. The skills I have developed are powerful and have taught me to become the very best version of myself both personally and professionally."
Could you tell us more about the issue for development you chose as part of the programme?
"As part of continuing development and something of great importance to people with Parkinsons and PDUK in Scotland is medication on time, every time. Unfortunately, people with Parkinson's can end up in hospital and literature shows that these patients don't have timely access to medications. They can be on some odd medication regimes particularly in the later stages of the disease management. This doesn't fit in with the normal hospital medication regime timetable. This is no ones fault but I plan to look at how we can manage this better for the nursing staff. Alternatively, we can look at patients managing their own medication whilst in hospital."
What steps did you take to start your career?
"I was a mature mother of 2 daughters when I thought I would apply to UHI Moray. I thought I would do the HNC in Healthcare to enable me to work in care homes as a senior. UHI Moray gave me the step onto the ladder. I had no formal qualifications but I had life skills. UHI Moray recognised that these skills are a solid basis for a learner's journey. They showed me that you are never too old to learn new skills. Lesley Boddie was my course leader and she was very supportive of my learning journey. That was really important to keep me motivated. She gave me the skills to enable me to believe in myself. She absolutely knew I could be what I wanted to be. It was no surprise to Lesley to see I received the Queens Nurse title.

I have been back on campus to speak to students embarking on this journey, I share my journey and also teach them about my role.

When my youngest daughter Libby left school with no plan, I encouraged her to attend the UHI Moray Open Day and she enrolled on the same course. She has now graduated with her nursing degree and started nursing in Dr Gray's hospital. I am proud that she is following in my footsteps."
Do you feel your studies and experience at UHI Moray help you in your career?
UHI Moray shaped the nurse I am today. I would not have gotten into university without qualifications. The healthcare course is a great stepping stone with many pathways leading from it. Thanks to this course, I am now the Neurology Specialist Nurse for Moray. I look after patients with Parkinsons and Huntington's disease. I have gone on to gain a qualification in both of these conditions and I have my independent prescriber's qualification too. We are never too old to learn.

My advice to anyone thinking of a career change is look at the courses available and take that leap. Who knows where it may lead.

One of the things I was taught on the Queens Nurse journey is live life by the 3 B's: Be bold, Be Brave, Be Bonkers. Pretty good mantra, don't you think?!
Well done to Shirley on this huge achievement and very significant award.