James Smith Award 2023
UHI Moray graduate, Jonathan Lester Heady, has been named the James Smith Award winner of 2023.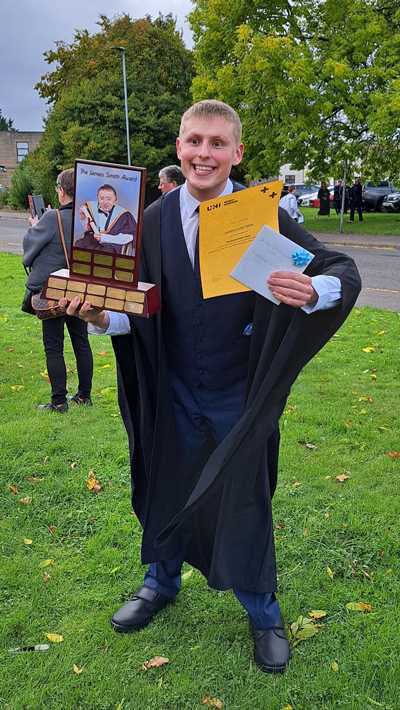 Jonathan started at UHI Moray in 2017 within our Supported Learning department, successfully completing the Preparing to Work (SCQF Level 3) course this year.
Jonathan has autism and has struggled with anxiety, but he worked hard to overcome his anxieties and has realised he can go on to achieve many things in life. Over the last 6 years with us, he has grown into a more mature individual able to travel independently and live in his own accommodation.
Jonathan braved the stage as our Vote of Thanks speaker at our 2023 Graduation and Celebration of Success and Achievement ceremony alongside being named the winner of our 2023 James Smith Award.
Jonathan's lecturers describe him as a student who "continuously inspires others through his courteous and respectful mannerisms, helping to make each person feel special."
Jonathan commented:
"I cannot thank everyone at UHI Moray enough for being so supportive and encouraging of my studies throughout the years. UHI Moray is a university that stands for inclusion, and also the quality of teaching, support and guidance. The staff are also incredibly friendly and passionate about what they do, and that's what I liked most about coming to college every week. This course has bolstered my ability to work in a team, as well as my ability to cope with unprecedented situations and places. It has also provided me with many fantastic work-related opportunities, and our sessions with the lovely people at Moray Pathways.

My plans for the future involve undertaking more work placements in the coming year, specifically in the customer service, retail and administration sectors, and then hopefully advancing to a more permanent job later in the future within these specific sectors. I am also strongly considering coming back to UHI Moray in 2024 to pursue either a Hospitality or Business Admin degree, which I believe will be of great use to me in the world of work.

The highlights of studying I would say is the first-rate support and encouragement from the lecturers and support staff, as well as the quality of teaching. It also provides you with plenty of once-in-a-lifetime opportunities that will set you up for life. The learning environment is also very student-oriented, and the class schedule is not too demanding, which promotes a healthy work-life harmony.

It's not about what you know at the start or knowing everything in the known universe, it's what's in your heart that matters. If you have a great attitude and a strong character, you can achieve anything you desire. And never be afraid of asking someone for help and making your feelings heard."
The James Smith Award is given to one student who has shown outstanding dedication to their course, fellow students & local community. James was Scotland's leading outdoor and indoor physically disabled bowler and travelled the world representing Scotland. He studied Multimedia here at UHI Moray and was well known among us.