Graduate Blog: Kay, SVQ Social Service and Healthcare (SCQF Level 7)
We spoke to 2022 graduate Kay about her experience studying our SVQ in Social Service and Healthcare (SCQF Level 7) whist in full time employment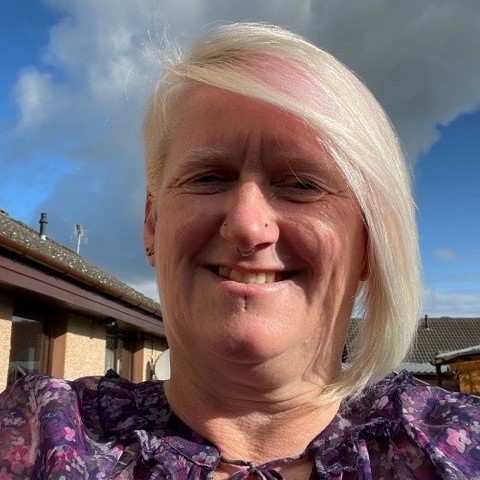 Hi Kay, can you start by telling us a bit about yourself?
Hi, I'm Kay. I work for SAMH (Scottish Association for Mental Health) as a Support Worker Level 2 which involves supporting individuals in the community to get the outcomes they would like while they improve their mental health.
What made you apply and why was our SVQ in Social Service and Healthcare right for you?
It was close to home and I needed to complete the course for work at my previous employer.
How did you find the support your recieved during your studies?
The course is work based so was all my study was done remotely, my tutor Evelyn was a huge part of making my experience a good one and being able to work around my job.
How do you feel this course has developed your knowledge, skills and overall exerience?
Doing my SVQ online gave me experience on the computer as I lacked IT Skills. Although I was working while doing the SVQ, it gave me a better understanding of the whats/whys I was doing in my job daily. Made me think more about it. It gave me confidence to further my career and move into a new job.
How do you feel your studies have helped you with your career?
I got a promotion at work after graduating, to a care practitioner and have now moved onto a new company and job.

My studies gave me confidence and an insight of what other jobs were out there.

It definitely helped me secure the job I am in now.
Lastly, what advice would you give to anyone considering studying at UHI Moray?
I haven't studied for over 30 years and the thought of it was terrifying. I had very little IT skills and this was scary. My tutor was amazing and helped me every step of the way. I would advise anyone thinking about it to go for it!
Our SVQs in Social Services and Healthcare are ideal for those within care serices and allow you to promote effective communication, develop your working practice and deepen your safeguarding knowledge
Want to share your story? Get in touch: marketing.moray@uhi.ac.uk