"Cabrach Reconnections" exhibition developed by UHI Moray art lecturer to be shown at Findhorn Bay Festival
During 2021 our art lecturer, Lynne Strachan, along with Moray-based artist, Mary Bourne, developed an arts project in The Cabrach, a remote upland area in Moray on the border with Aberdeenshire. Their project set out to find ways for people to reconnect, with each other and with nature, through activities such as sketching, walking, photography and jewellery making.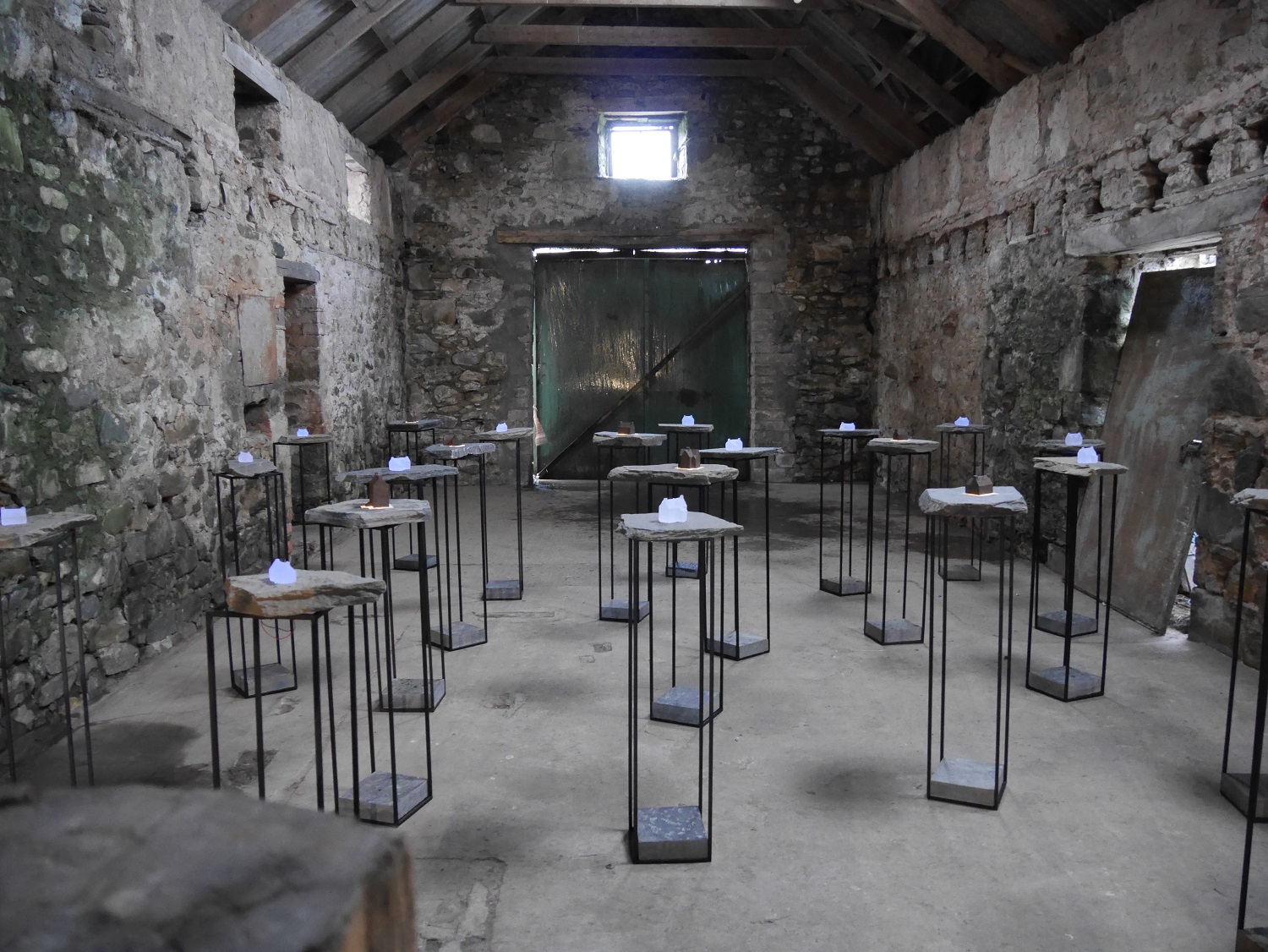 Over the summer Bourne and Strachan explored the area on foot – alone, together and guided by people with local knowledge. This exhibition highlights some of the challenges facing The Cabrach community, as well as showcasing this beautiful area and encouraging others to come and enjoy it.
Mary explained:
"This was a project born in lockdown. Lynne and I have several decades of experience of making art for public places between us and have worked together before, but we have always designed to other people's briefs and in places distant from where we live. Lockdown gave us the opportunity to take stock and we decided we would like to write our own brief and work together in a place that has long fascinated us."
Lynne said:
"The work has been influenced by the materials people have left behind which are slowly being reclaimed by nature, as well as by the personal items that would have carried away when they left. We have been experimenting with fabrics, glass, cast iron, copper and silver to develop works that will hopefully bring renewed attention to areas that have been lost or forgotten. Working with Scottish Sculpture Workshop, Northlands Creative and Vanilla Ink Jewellery Workshop has given us the opportunity to experiment with new materials and learn complex processes from these highly knowledgeable teams."
The Cabrach Reconnections exhibition comes to Findhorn Bay Festival from Aberdeen Art Gallery and has previously been exhibited at the Custom House Gallery in Edinburgh and rural Moray venues from a bothy to someone's front room. It will be open from Wednesday 28 September to Sunday 2 October between 11am to 5pm in Edinkillie Community Hall, Dunphail IV36 2QW. Free entry.
The Findhorn Bay Festival is now in its fourth year and will focus on Scotland's Year of Stories, giving our local community the unique chance to celebrate and appreciate Scotland's stories, heritage, landscape and people through Scottish art, performance, storytelling, live music, food and drink, family-friendly events and creative activities. Find out more on the festival website.
Website: www.cabrachreconnections.co.uk
Instagram: @cabrachreconnections
Facebook: Cabrach Reconnections
#cabrach #creativescotland

Aerial photograph of Upper Cabrach taken by Lynne Strachan