BLOG: Audrey, Hairdressing Lecturer
We had a chat with Hairdressing Lecturer, Audrey, about her career so far and what she enjoys most about her role as a lecturer.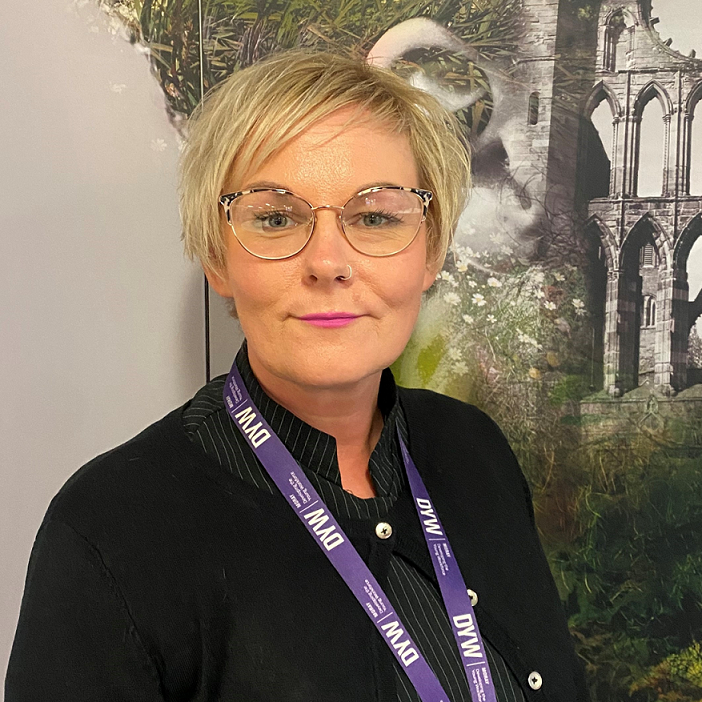 Hi Audrey! Can you start by telling us about you?
I enjoy spending time with friends and family, walking my 2 dogs and going the gym. I also love playing the baddie or the fairy godmother in the local panto.
What made you pursue a carrer in Hairdressing?
I always had an interest in hairdressing, so I applied for job experience through the school and was very lucky to be offered a job at the end of the week. I then built my client list over the years and worked up to salon manager where my job role was to train and mentor staff, I really enjoyed this part of the job, and this helped me to move forward and pursue a career as a lecturer. In between this I also opened my own salon and was flexible enough to do both jobs before deciding that lecturing was the one that gave me most enjoyment.
Speaking of lecturing what does a typical day look like?
You are more than likely to find me in one of the salons on campus, where I work with the students to develop new skills or improve on the ones that they have learnt previously. The salon sessions are mostly client lead sessions so I will be there to support and guide the student through consultation, service, and finish. When I am not working in the salon, I am delivering theory or working on paperwork.
You mentioned developing skills, what skills/qualifications can be gained on our courses?
Students can get qualifications in Hairdressing and Barbering and gain communication, organisation, teamwork, ICT, and practical skills.
What do you think is the best thing about our Hairdressing courses?
Our courses are developed to be relevant to what is required to work in the industry and are suitable for all ages and abilities. We also offer opportunities to work with brand ambassadors and regular brand training.
What roles are available to students once they graduate?
Depending on what level the student graduates with will depend on the job role. Salon assistant, stylist or senior stylist or Barber would be the path that most graduates would follow. We also encourage students to seek employment or volunteer in salons during their studies.
Whats the best part of your job?
I really enjoy working with the students and watching them learn new skills.
Lastly if you were a super-hero, what type of powers would you have?
I would love to be able to fly, so I could go all over the world and explore different places.
Studying hairdressing can open up a variety of employment opportunities in the industry. Gain the practical experience and develop the skills required to set you on your way