Blog: Agata Stoczkowska, SVQ in Social Services - Children and Young People (SCQF Level 6) Graduate
By working with children, you are supporting the next generation of leaders, creators and thinkers. We spoke to Nursery Assistant and SVQ in Social Services-Children and Young People (SCQF Level 6) graduate Agata about her experiences.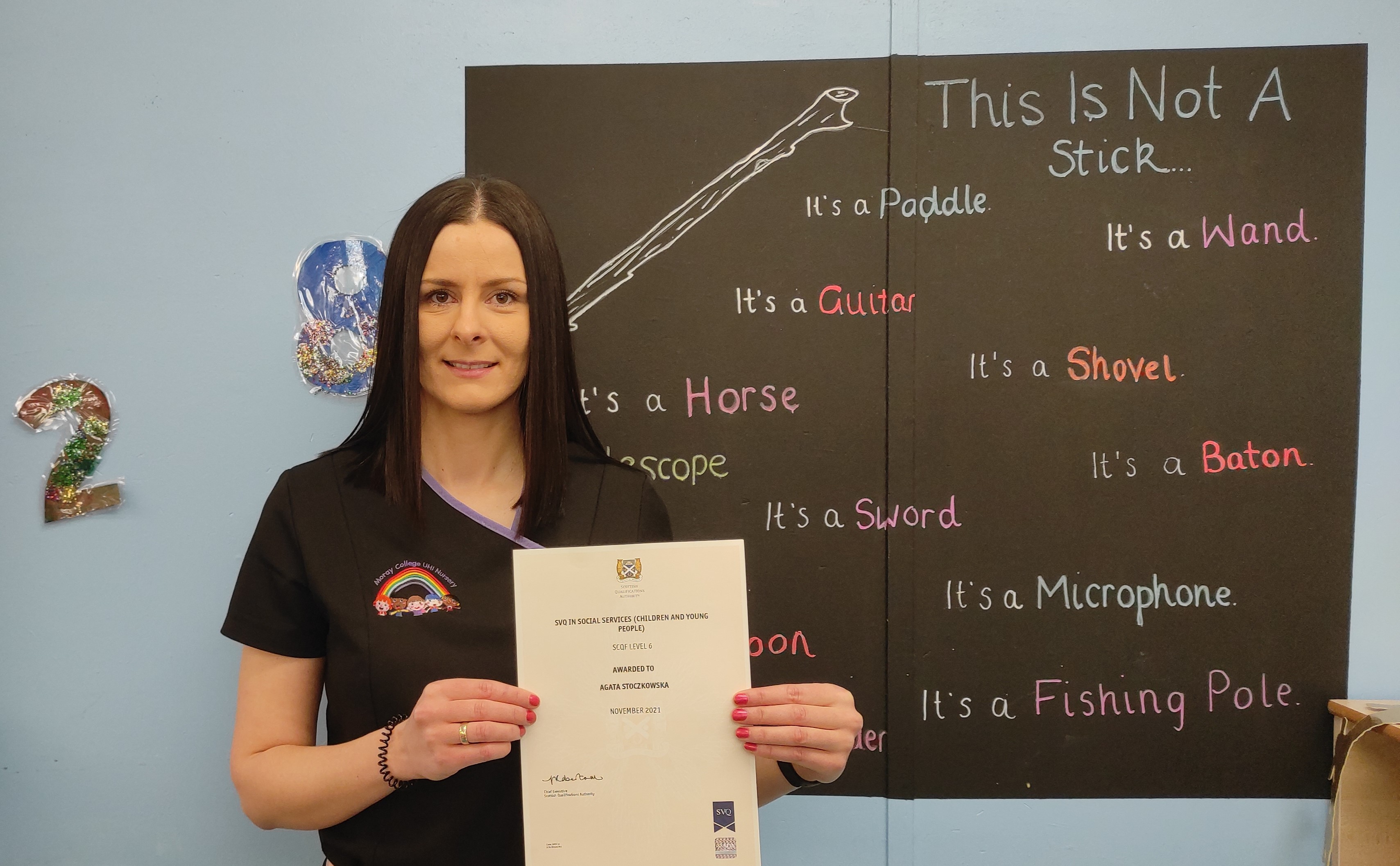 Hi! Can you tell us about yourself?
I'm Agata, I studied SVQ in Social Services (Children and Young People) SCQF Level 6 and I now work as Nursery Assistant at Moray College Nursery.
Upon starting your course, did you have a clear idea of the career path you wanted to follow after university?
Before I started the course, I was working as a Support Worker for 6 months. I really enjoyed working with children and I knew this is the job I want to do.
Can you describe what knowledge, skills and experience you gained from your course?
By completing my SVQ course I improved my skills and knowledge required to carry out my job role successfully. The course helped me to use my reflections to improve the way I work by evaluating how I have done things and think how I could do it differently.

Also, the course helped me to understand that it is important to reflect on how I do my work so I follow best practice ensuring the children are always in the centre, I always meet their needs, I make sure I am following all of this so I can build on knowledge and confidence. I have a deeper understanding of working with children.
How did you find the mode of teaching on the course and the support you received from your tutors and lecturers?
It really suited me that I was able to complete my course in my own time. My assessor was a great support, sometimes she believed in me more than I have. She was always available when I needed her, and I do not think I would have completed my course within 6 months without her. We had our meetings via Teams to discuss specific topics I was working on. My senior was my mentor and she was very supportive and helpful too. She was always happy to give me advice.
What advice would you give to those considering studying an SVQ in terms of careers and employment?
Do not be afraid and apply for SVQ course. Working and studying at the same time can be incredibly rewarding and can open up opportunities that might not have been available otherwise.
Lastly, what three words would you use to describe your course?
Enjoyable, challenging, interesting