UHI Moray apprentice wins Gold at the 2023 Scottish Electrical Apprentice of the Year
Ellis Stevenson, UHI Moray 3rd Year Electrical Apprentice who works for Campbell and McHardy has been awarded the gold medal in the Stage 2 Scottish Electrical Installation apprentice of the year competition.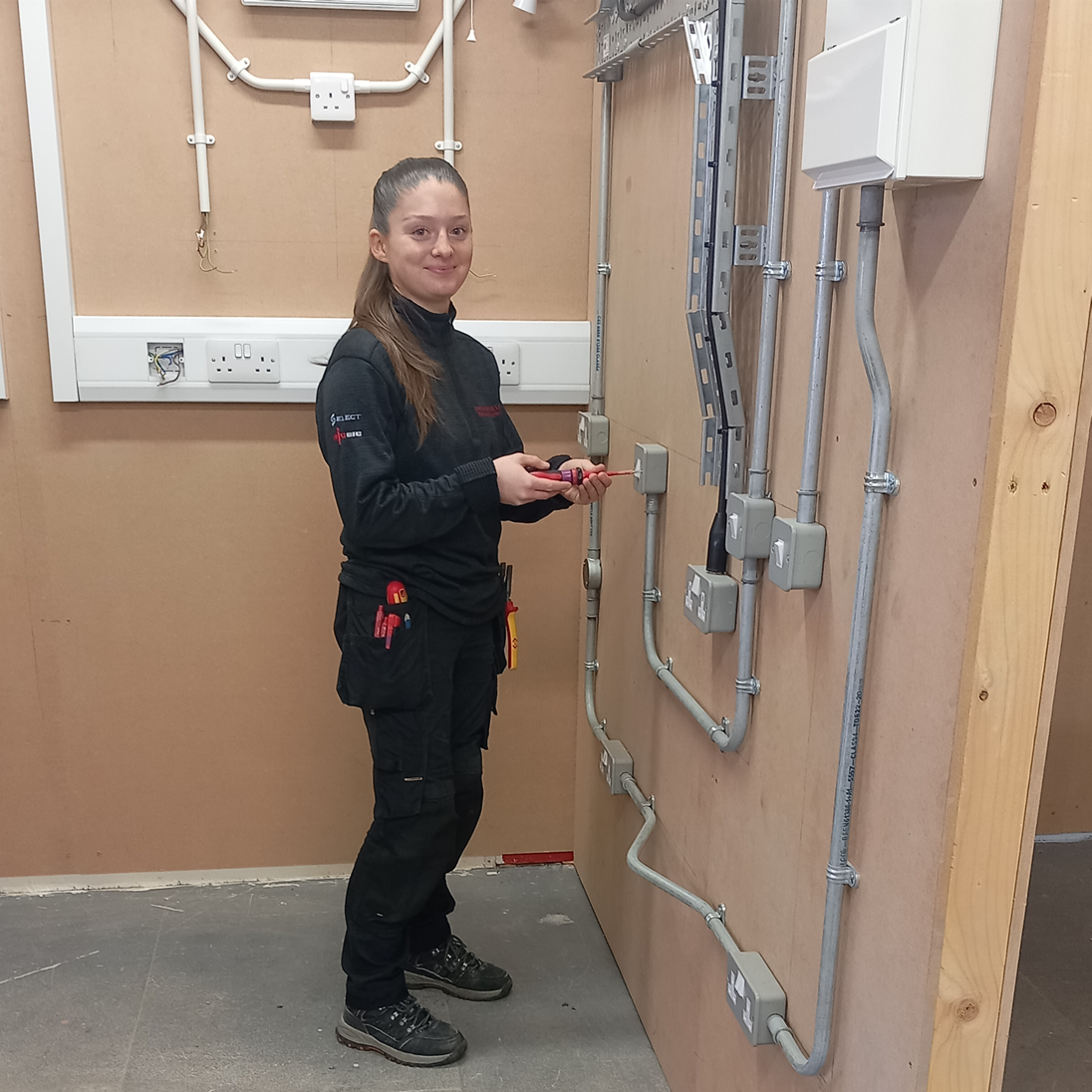 This is the 3rd gold winner over the last 4 years in the Electrical Installation Apprentice of the Year for UHI Moray so is a very proud moment for not only the apprentice but also the lecturer Iain McBean.
Iain McBean has been a lecturer for 14 years after working as a self-employed electrician. He is from Elgin and has 2 children aged 25 and 21. Iain's commitment and expert teaching had led to many UHI Moray apprentices winning awards in local and national competitions.
'Ellis worked hard throughout her time at college and put in 100% effort which showed with the results she received. The theory work was always completed well within the timescale and to a very good standard and again with all the practical tasks in the workshop, completed to a very good standard. With the effort that she put in preparing for the competition I am delighted that she was placed first and won the gold medal. She truly deserved it with all her hard work. She is a credit to her employer, the college and her family'. Iain McBean, Construction Lecturer, UHI Moray
Ellis won the gold after beating 800 other apprentices making it an incredible achievement.
Ellis is aged 19 from Elgin and attended Elgin high School. She always had an ambition to become an electrician so when an apprenticeship opportunity arose with Campbell and McHardy, Ellis applied and was successful.
In addition Ellis also won the Medlock Electrical Shield for the top electrical apprentice – 2nd Year at the recent UHI Moray Construction awards.
Ellis: Making it to the Electrical Apprentice of the Year Final 2023 for 2nd stage in Scotland has been a great achievement for me. I was pleased to get that far in the competition, so was thrilled to win gold at the final in Edinburgh. I am looking forward to continuing my apprenticeship and to gain more knowledge in the electrical industry.

I would like to thank everyone at Campbell & McHardy Ltd for all the support during my apprenticeship so far and would also like so say a big thank you to my college lecturer Iain McBean for his help throughout the competitions and my apprenticeship.
Ian Campbell, Campbell and McHardy stated "Ellis is a really hard working and valued member of our team. She has fitted in so well here since she started and always gives 100% effort in all jobs. She put a lot of work into preparing for the competition and we were all delighted to hear she had been awarded the gold medal. Ellis thoroughly deserves this recognition for her excellent work. "
Following Ellis success she now goes onto Stage 3 in the National Skillelectric competition and hopefully if successful onto the UK final where she will compete against 7 other apprentices from UK and Northern Ireland.