Nursing students honoured at UHI graduation ceremony
UHI Moray graduates were honoured at the UHI Nursing and Midwifery Graduation ceremony on Thursday 17 November. Over 100 graduates celebrated their achievements at the ceremony, which took place at the Free North Church in Inverness followed by a reception at the Centre for Health Science.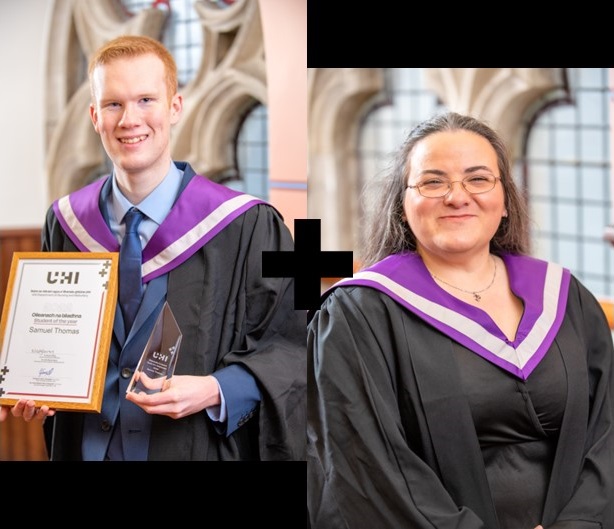 Samuel Thomas - Winner of the Nursing and Midwifery Student of the Year, UHI Student of the Year and Chancellor's Nursing awards:
UHI's Student of the Year was named as Samuel Thomas (20) from Forres. Samuel started UHI's BSc nursing programme in 2020, after completing an HNC in healthcare practice at UHI Moray the previous year. His lecturers described him as an outstanding student who demonstrated a strong work ethic and achieved high academic grades.
Sam built a reputation for going above and beyond the requirements of his degree programme and clinical placements. He conducted a research study on male attitudes towards nursing as a profession, developed a signposting directory for advanced nurse practitioners and created a standardised care plan for catheter care.  
He has also been commended for his personal qualities, with staff and clinicians praising his kindness, resilience and friendly manner.  
In the background to these achievements, Sam has been coping with the death of his mother. Despite losing his mother when he was just 17, he has been determined to use his grief in a positive way by advocating for those requiring end of life care. 
Sam is graduating with distinction and has received funding to embark on a Master of Research degree with UHI's department of rural health. He has also secured a role as a rural community staff nurse.  
Speaking about his awards, he said: "It is a real privilege to receive these awards in recognition of my work and study over the last few years. I thoroughly enjoyed my time on the BSc nursing programme at UHI, which has provided me with the knowledge, skills and determination to deliver high quality care as a registered nurse. The support I have received from both academic and support staff has been exceptional and has enabled me to engage with additional opportunities such as research and quality improvement. My experience of the superb teaching from my lecturers has inspired me to balance a clinical career, currently as a community staff nurse, with further postgraduate research examining nurse's preparedness to deliver end-of-life care in rural communities."
Vasi Chrysanthakopoulou - International graduate:
Vasi Chrysanthakopoulou (42) moved from Greece to Buckie in 2015 to live with her now fiancé, Shaun Fleming. She is graduating with a BSc in mental health nursing with distinction.
She said: "I have always been involved in health and social care and, in 2019, finished my HNC in social services through UHI Moray before starting my mental health nursing degree. Although it has not always been easy, I have never second-guessed or regretted my decision. 
"I would like to dedicate my working life to mental health services and I have secured a post as a staff nurse at a dementia ward with the local hospital. I would not have been able to do this without the help of some amazing lecturers at UHI and my personal academic tutor, Sam, especially deserves a medal and a halo!"
Dr Nicola Carey, Head of Nursing and Midwifery at UHI:
"This is our first graduation which celebrates the achievements made during the COVID-19 pandemic. Our nursing and midwifery students played a vital role in supporting the work of the NHS over the last couple of years, on top of completing their academic studies. We are here today to show pride in what they have done and to wish them well as they take the next step in serving our remote, rural and island communities."  
The graduates, who were joined by over 280 guests, celebrated success in a range of qualifications including Higher National Certificates, Higher National Diplomas, degrees and postgraduate programmes.
UHI Moray: Where learning means more opportunities