Moray College UHI Hospitality students celebrate reaching the Country Range Student Chef Challenge 2022 Grand Final
After one of the most competitive paper judging stages in the competition's history, a trio of talented chefs from Moray College UHI Hospitality and Tourism Academy (HATA) have made it through to the Grand Final of the prestigious Country Range Student Chef Challenge 2022.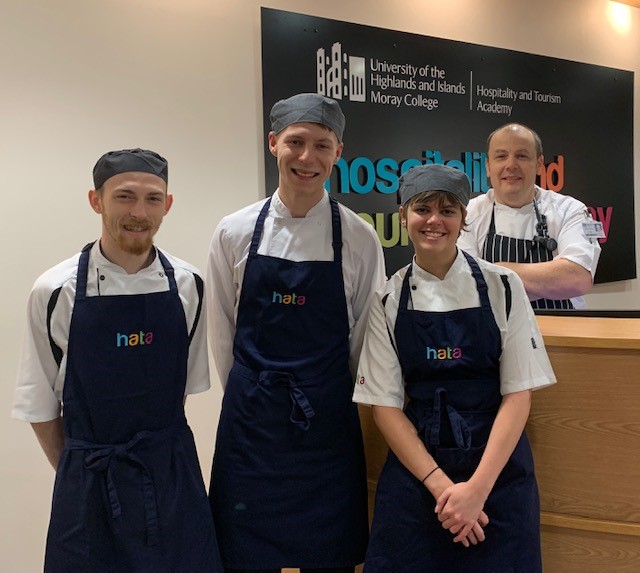 Working as a team of three Joely Beal, Austin May and Darren Slapp had to devise a delicious three-course menu consisting of smoked fish canapes, a guineafowl main course and a tart with a crumble topping for dessert.
The trio's imaginative menu impressed judges enough to win one of just eight places in the nerve-wracking live Grand Final taking place at the Hotel, Restaurant & Catering Show at Excel in London on the 22nd March 20022.
The menu includes:
Canapes
Smoked mackerel and horseradish potato cake, radish, spring onion, flaked smoked mackerel.
Kellas smoked trout and devilled egg sandwiches.
Smoked seared scallop, pickled ginger, avocado, wasabi.
Main
Pot-roasted Guineafowl crown mushroom and thigh boudin, celeriac two ways, sautéed kale, roast potato, carrots, red wine, and port jus.
Dessert
Orange and cardamon open custard tart with a pistachio crumble.
Pistachio sweet paste, chocolate sorbet, burnt orange sauce, flamed orange segments and fresh orange zest.
The young chefs will now have to recreate their menus and present the dishes to an impeccable standard within 90 minutes under the watching eyes of leading judges from the Craft Guild of Chefs in March.
Craft Guild of Chefs Chairman of Judges Chris Basten said:
"The cancellation of last year's competition and the various COVID challenges has definitely focused the students minds and given them extra incentive to succeed. The number and quality of applications has never been so high so it's a massive credit to the team at Moray College who have obviously put in a lot of work to create such an appetising and interesting menu. They definitely have talent – now we will see if they can handle the pressure of cooking in front of a big crowd at the live final."
Martyn Woodward, Lecturer at Moray College UHI said:
"It's actually our first year entering the Country Range Student Chef Challenge so we are obviously elated to have made the final in our first year. The credit has to go the students who are very excited about the final with a few good nerves thrown in. Before it was just practising and creating dishes amongst the team, now it's got real so I am looking forward to seeing them progress further and in action at the final."