Integrative healthcare student wins Ina McIver award
A Moray College UHI graduate has received the Ina McIver award which recognises the skills and achievements of students in their final year of their health or social care programme at the University of the Highlands and Islands.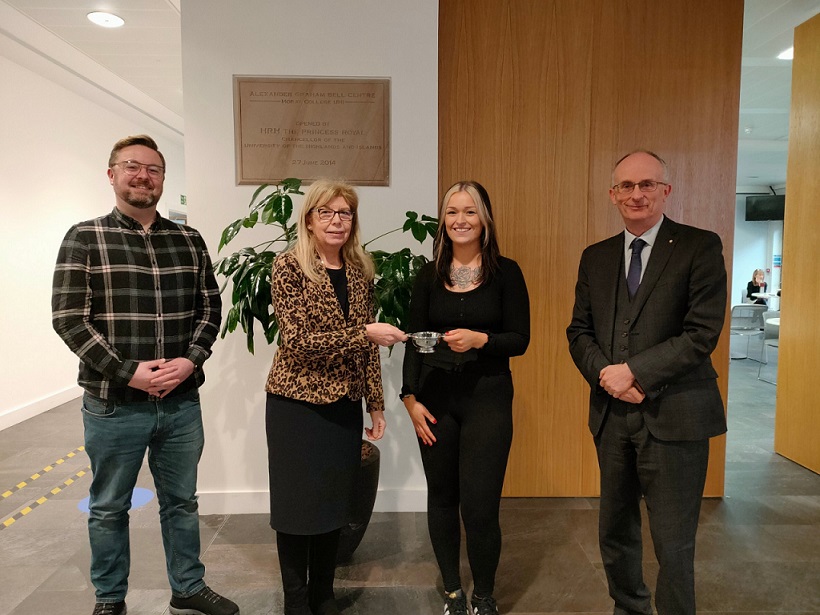 Rachel Foy (24) recently completed an honours degree in integrative healthcare, led by Moray College UHI, which is the only educational institution in Scotland offering this degree.
Rachel was nominated for the award due to her determination and perseverance while facing personal challenges. In addition, she was recognised for her support and integration with her peers particularly through her encouragement to fellow students during difficult times.
This award sponsored by NHS Highland is in memory of Ina Maciver, the university's former subject network leader for health and social care, who was devoted to learning, teaching and to students' personal development.
Rachel was presented with the 'Ina McIver quaich' by Professor Sandra MacRury, Honorary Consultant Physician, NHS Highland and Chair of Clinical Diabetes, Centre for Health Science and David Patterson, Principal and Chief Executive, Moray College UHI.
Sandra MacRury
'I am delighted to be presenting the Ina McIver award on behalf of NHS Highland to such a worthy recipient. Rachel's approach to her studies and fellow students reflected Ina's own approach to supporting students. Ina was committed to helping students who demonstrated evidence of their progress in overcoming challenges and was a firm advocate of the importance of collaboration and teamwork. Rachel scored highly in all of the award criteria in terms of personal and academic progress and supporting other students on the course. We would like to wish Rachel all the best for the future and many congratulations on achieving a first-class honours'
Rachel Foy
'I am delighted to be nominated and selected as the recipient for this award in Ina McIver's name. I want to thank all of the inspiring staff from Moray College UHI especially Mike McGlynn and Rosemary McCormack for their continuous encouragement and belief in me that I could achieve my degree. I am now looking forward to what the future holds and using the skills I have gained during my time as a student'
David Patterson
'We are really proud of Rachel and her achievement, and appreciate the way she has been so supportive to those around her. She has managed to combine tenacity in her studies with being a great team player, and she should have the utmost confidence that she will make the most of the opportunities coming her way now. The Integrative Healthcare degree programme led by Moray College UHI has been running now for 5 years and is attracting students from all over the country and across many disciplines.'
Rosemary McCormack, Head of Curriculum and UHI Programme Leader for IH
'This award is a massive accolade for Rachel who has travelled a huge distance in her studies. Transferring from HND Beauty Therapy into the 3rd year of the degree was a challenge. However, Rachel excelled and we are so proud of her achievement. This award to a graduate of Integrative Healthcare is also a recognition of the value of the degree in health and social care'