Think BIG! Business Student to Business Lecturer: A Students Perspective
Former HNC Business and MBA Business Administration (Executive) graduate Kelly shares her story from fitness instructor to business lecturer.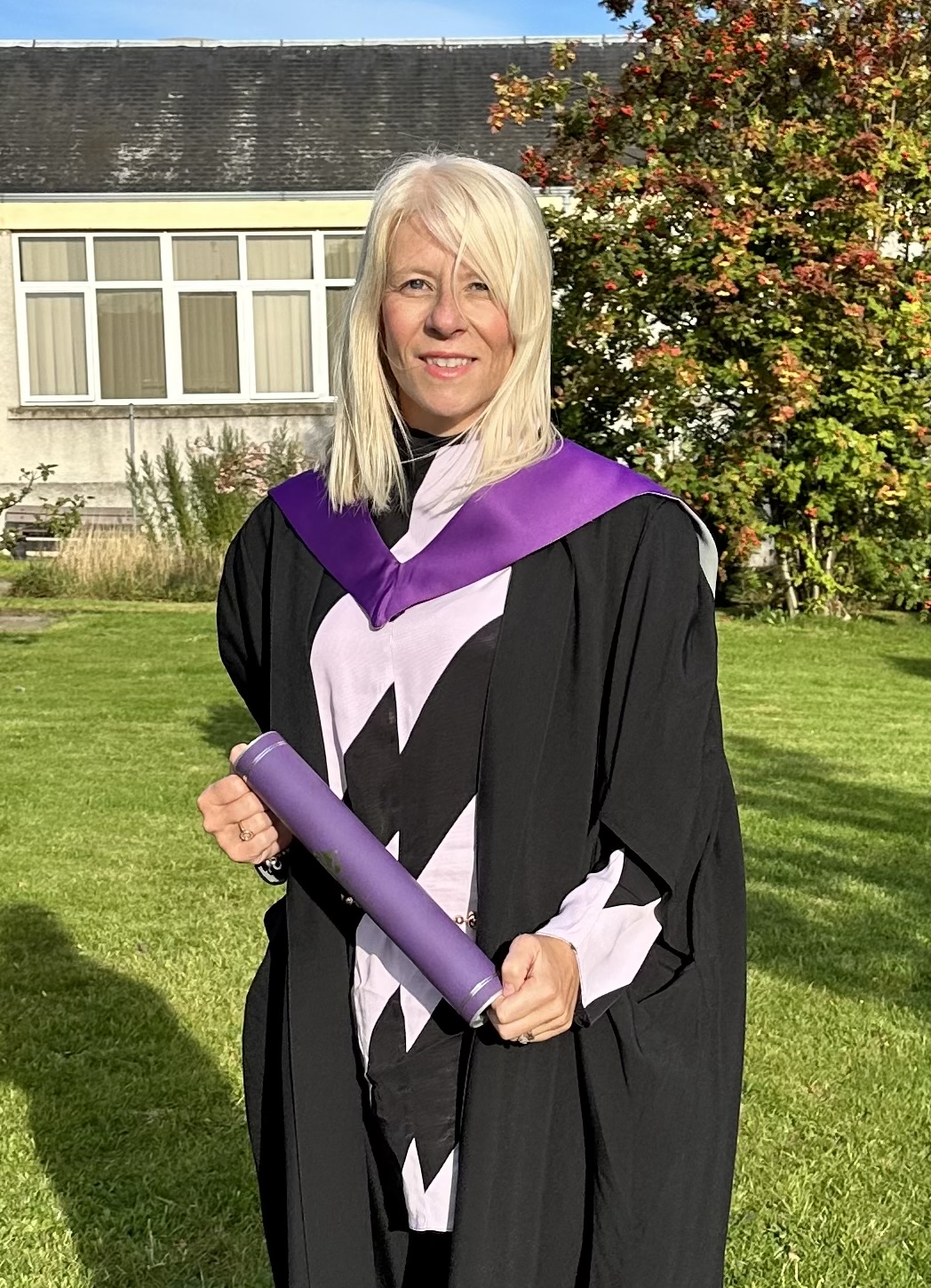 I am Kelly Cormack a former student of UHI Moray, and now a lecturer in Business. In February 2013 I decided to enrol at UHI Moray to study HNC Business. There was much deliberation on my part whether to enquire let alone enrol as I felt quite anxious about throwing myself into an academic setting bearing in mind it had been twenty years since I last studied. However, with great encouragement and support from my husband and children I decided to go for it, and I have never looked back!
I had quite a busy work and family life before I became a student. I was a self-employed fitness instructor specialising in Zumba and 50+ Exercise to Music. I ran a company with my husband, and of course my favourite role was being a mum to my three amazing children. However, I felt a change and a new challenge was needed especially with my children becoming more independent.
I remember my first day at college like it was yesterday! I was quite conscious I was the oldest in the class and I thought "what am I doing here" but as the day progressed and I met my classmates and lecturers I started to feel at ease and my nerves started to dwindle. I remember picking my subjects and starting to feel quite excited and positive about my year ahead which turned into two years as I continued with my HND. At that point I felt I had enough of studying and went back to running a company with my husband for a further two years utilising my new skills I learned throughout the course. As time went on it become apparent my HND not only gave me new academic skills in Business, but it also gave me confidence, self-belief, ambition and drive that led me to continue with my studies where I graduated with my BA Honours in Business and Management in 2019.
My time at UHI Moray inspired me to transfer my teaching skills from fitness into academia. With the desire to keep learning, achieving and developing new skills to become a lecturer, I decided to embark on my Executive MBA where I graduated with distinction in 2021. I am not boasting about my qualifications, the morale of the story is; I went from a shy, nervous, anxious mature student with little self-belief in my academic abilities to achieving qualifications I could never have dreamed of. This was only achieved through my hard work, dedication, motivation, determination and most importantly my self-belief. I also had the continued support throughout the years from my lecturers who not only taught me but encouraged, guided and mentored me through my time at UHI Moray.
My story with UHI Moray does not end there! After I graduated, I was fortunate to be employed as a school co-ordinator for DYW Moray who are academic partners of UHI Moray. After a productive eighteen months at DYW an opportunity arose for me to apply for the role as a Lecturer in Business at UHI Moray, naturally I applied for it, and I have not looked back!
In 2013 my ambition was to leave UHI Moray with a HNC in Business, here I am in 2023 as a lecturer in business. Think big! nothing is impossible all you need is self-belief and a strong work ethic to achieve your dreams.