Accommodation
content
We now have dedicated student accommodation in Elgin! Find out here about accommodation options and places to stay throughout Moray.

Student Accommodation
A purpose-built student residence is available in Elgin offering 40 en-suite bedrooms with shared kitchen and living areas. The accommodation is professionally managed by Cityheart Living (Scotland) Ltd.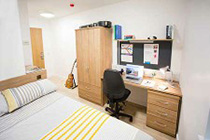 A single en-suite bedroom with shared kitchen and living area is £139.18 per week and a studio en-suite bedroom with cooking facilities is £178.15 per week. The rent includes Wi-Fi, heating, electricity and cycle storage. Laundry services are also available at the residence.
There is a support system in place for students adapting to university life.
The residence application process is managed by and the student leases will be with Cityheart Living (Scotland) Ltd. Applications are now being taken.
Private Accommodation
We have put together the following listing of accommodation options as a guide to help you find a place to stay.
Please note that none of these properties have been vetted by us and any accommodation arrangements are made directly between you and the accommodation provider.
If you require further information, please get in touch with our Student Advice Manager, Heather Henderson.