Students Geared Up by Hands-On Motor Experience
Moray College UHI students lead the way in the 'Green' agenda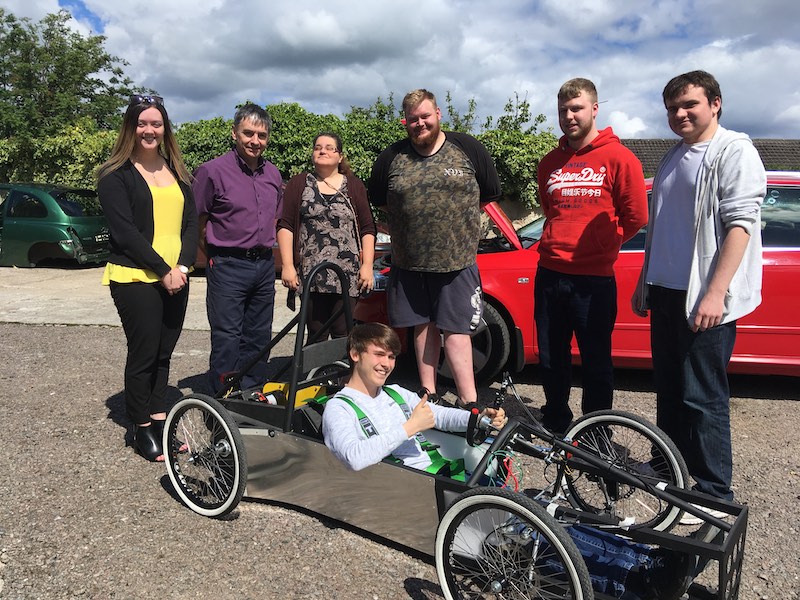 Motor vehicle students studying with Moray College UHI have been involved in an exciting project in partnership with Greenpower Education Trust to build their own electric car.
Greenpower Education Trust supported the project and the City and Guilds students to build the car from a kit provided by the Trust.
The students loved working on the project and are very proud to have been part of competing the working prototype.
Greenpower Education Trust is a UK based charity with an outstanding track record in kick starting careers in engineering with the aim of inspiring young people around the world to excel in Science, Technology, Engineering and Maths through a unique challenge: to design, build and race an electric car.
This project which was facilitated by Developing the Young Workforce Moray has been hailed a success by lecturer Paul Rochford who worked with the students with the build.
He said:
"This is a fantastic way of learning for the students.
"The students who come in here get access to real vehicles and work on real cars but working on the Green Car is much more rudimentary.
"It has helped to teach them the basics and then be able to apply the technology elsewhere.
"One of the main parts of the project that the students have enjoyed and found rewarding was the electrics.
"Being able to work on the electrics from scratch has been so beneficial and there have been those who have then applied what they have learned when working on other vehicles."
John Dalmon (21) studying City and Guilds Level 3 Diploma Light Vehicle Maintenance & Repair Principles said:
"Because we built the car from scratch, we learned everything as we went along and as there was no bodywork you could see how everything went together.
"I found it particularly useful being able to see how the car actually steers."
Charlotte Usher (43) studying the same qualification added:
"It has been a great experience and it was great to work on this as part of a team.
"It's also allowed us to experience elements of car design that we might not have if we didn't have access to the kit.
"For example, we had to research car design as we were tasked with making the bodywork for the green car."
She added:
"The electrics involved following a wiring diagram which was a new skill for most of us.
"Having it laid out in a smaller vehicle made it easier to visualise how the electrics in a full-size car would work."
Once complete the students got to test drive the car and as Charlotte explained, it attracted some attention:
"Watching the car being driven for the first time round the car park and the attention it gathered from others was a real buzz."
Sarah Baxter, manager of DYW Moray said:
"We were delighted to invest in this project working alongside the Greenpower Education trust and of course the team at Linkwood Technology Centre.
Inspiring people in science, technology, engineering and maths subjects is big on the education agenda and this project has been a fitting way to do just that."
Press release by DYW Moray www.dywmoray.co.uk