Moray College UHI Student featured as 'Masterchef of the Future' on Master Chefs of Great Britain Website
Rachel Blackwood, a Moray College UHI student studying 'NQ Hospitality – Gold' within the Hospitality and Tourism Academy, is currently being featured on the Master Chefs of Great Britain website as a 'Masterchef of the Future'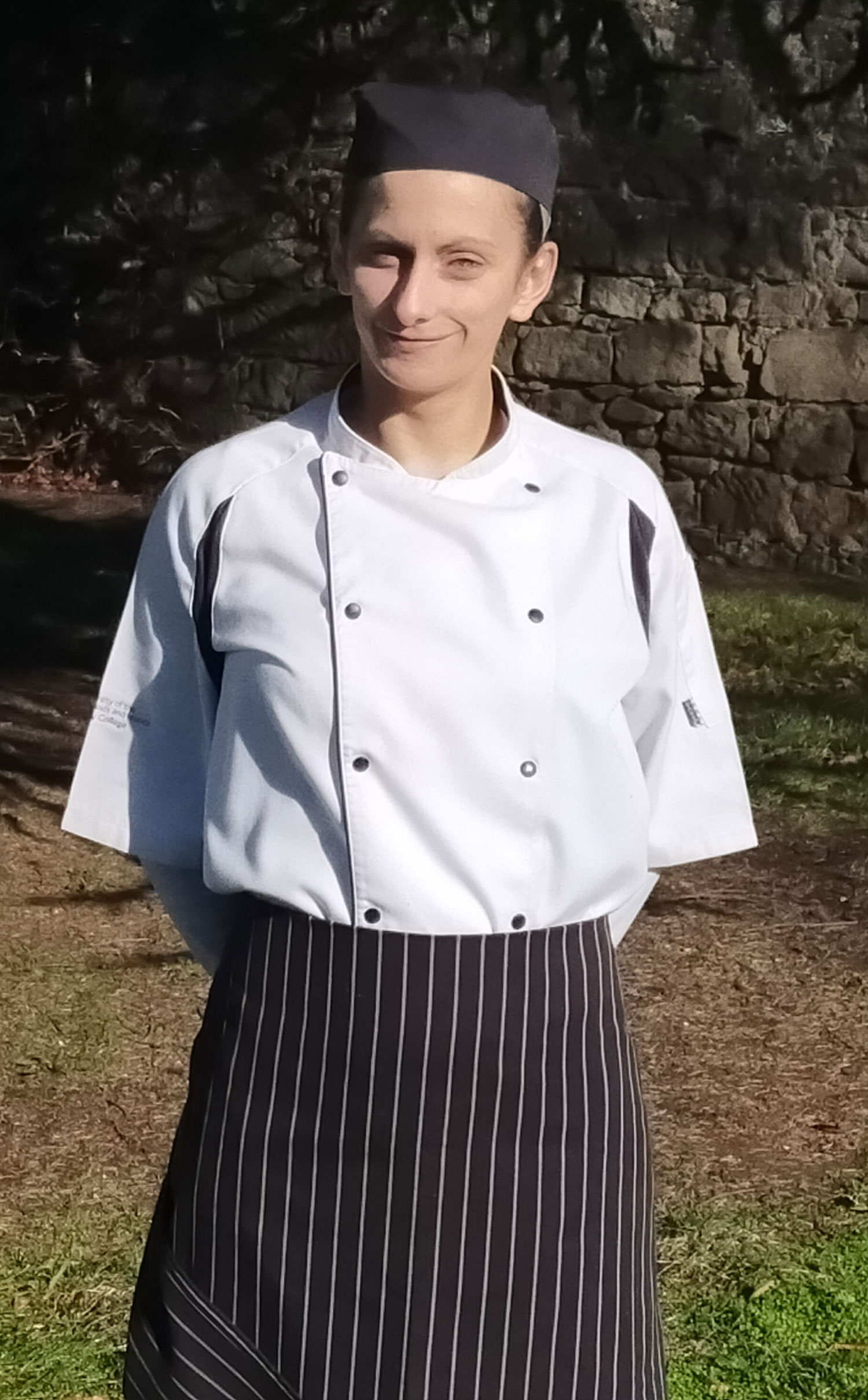 Rachel submitted her recipe for Tartlet of locally-landed Brown Crab, Lemon & Tarragon with Arran Whisky Cheddar, Radish & Pea Salad and a Honey-Mustard Dressing to the publication and was delighted to learn that her recipe and bio would be featured on the Master Chefs website and also in an upcoming edition of a popular Catering Magazine.
From Banff, Rachel returned this year to study Hospitality at Moray College UHI as she wanted to develop her cooking skills and gain the confidence to get back into the workplace after having her daughter.
Always a lover of food and cooking, Rachel attributes this to her father and the range of different ingredients he used when cooking his favourite dish – stir fry.
Rachel Blackwood: "I put my name forward because I thought it could be a fun experience and an opportunity to learn something new. I had never worked with live Crab before, so this was certainly beneficial for me and I had a lot of fun experimenting with different ideas. The quality of the locally landed Shellfish was also a big reason for my interest. I would like to continue my studies in 2021/22. I have really enjoyed my time at Moray College UHI and I feel there is a lot available for me to learn and soak up. The HATA Lecturers provide so much information, support and opportunity and it really enhances the education that I receive. I think that further study can advance my skill set and broaden my scope of knowledge within food and hospitality".
Alistair Fowlie, Deputy Head of Curriculum: "Rachel was very quick to put herself forward for this opportunity and has really grabbed it with both hands. She is keen to learn and has really developed her skills since starting at College. She has ambitions to eventually establish her own business and a feature like this is a real confidence boost for someone with those aspirations. Her recipe uses some fantastic locally landed Crab and she has done a commendable job of practising her dish and pulling this together by herself whilst studying from home!"
Graeme Watson, Vice Chairman, The Master Chefs of Great Britain: "Our main goal at The Master Chefs of Great Britain is to support and nurture today's catering students to become the Masterchefs of the Future. Despite the current challenges caused by Covid, hospitality remains a fantastic, fun and exciting industry to be with so many fabulous opportunities if you embrace all it has to offer.
It is wonderful to see Rachel's enthusiasm for the profession, willingness to learn and eagerness to tackle something new and technically challenging like a live crab.
Faced with this challenge she has done both herself and Moray College UHI proud and I have no doubt if she carries on her career in this vein she will become a Master Chef in the future."
Rachel plans to continue her studies into 2021/22 as her recent studies, despite not being able to attend college regularly due to COVID–19, has sparked a desire to be creative, particularly working with unfamiliar ingredients.
Click here to read Rachel's full story including her mouth-watering recipe.
Follow our Hospitality and Tourism Academy (HATA) on Facebook