Hospitality team shortlisted for outstanding support
The Moray College UHI Hospitality and Tourism Academy team have been shortlisted for the RAF Benevolent Fund 'Outstanding Support from an Organisation' award.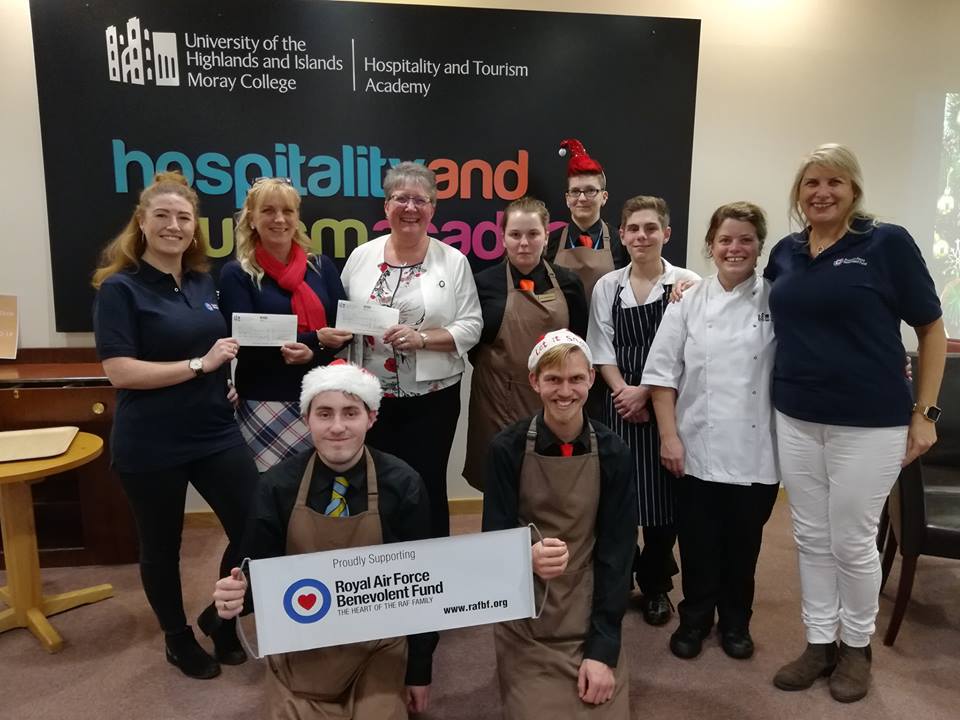 The staff and students were nominated due to the continued support and their fundraising efforts for RAF charities over the years.
Raising over £6400 the department have held a number of fundraising events at the college's onsite training restaurant, The Beechtree Restaurant. Events include G & Tea Afternoon, Finale Dinner and A Night with the Chefs where George McIvor, Chairman of The Master Chefs of Great Britain hosted a fantastic night of food prepared by Scottish Patissier and Chocolatier, William Curley and Scottish Chef of the Year and graduate of Moray College UHI, Lorna McNee.
The RAF Benevolent Fund is a leading welfare charity that supports all serving and former members of the RAF as well as partners and dependent children. Their services include medical, rehabilitation and bereavement support.
The annual awards ceremony allows the fund the opportunity to celebrate the work of the fundraisers and showcase how the donations make a difference to the lives and beneficiaries of RAF personnel past and present. The nine categories including 'Above & Beyond' and 'Fundraising Team of the Year' are judged by an expert panel.
The Hospitality and Tourism Academy offer a range of hospitality training opportunities from short courses to full time programmes. By studying hospitality at the college, students will build confidence, gain employability skills and also be given the opportunity to get involved with a variety of fundraising events.
Tami Wilson, Hospitality Lecturer at Moray College UHI said: "We chose to support this charity as many people know someone who has been affected or supported by the RAF Benevolent Fund. Our hospitality students across all levels have been involved in supporting and contributing their ideas, skills and enthusiasm to all of the fundraising events."
The winners will be announced at the annual awards ceremony being held on the 27th June in London.