ESOL International Cookery Challenge
Our English for Speakers of Other Languages (ESOL) lecturer, Siobhan, set her students an international cookery challenge where they were asked to cook or bake something traditional from their home country. With a wide range of nationalities at Moray College UHI we were excited to see our students rise to the challenge and prepare a variety of tasty-looking dishes!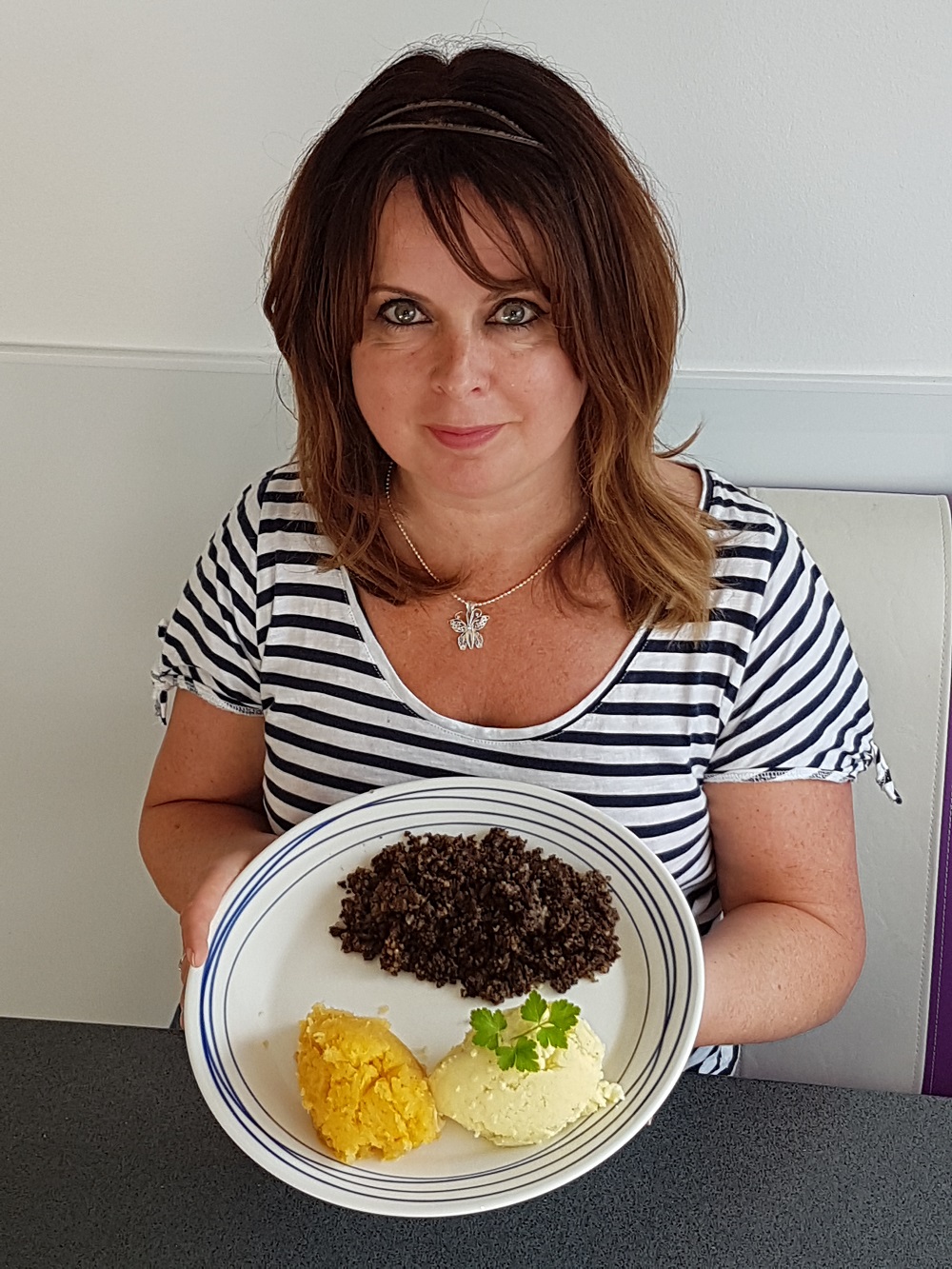 Siobhan Mackie from Scotland (ESOL Lecturer)
I am often asked by our international students about haggis, and so it only seemed appropriate that I cook this as part of my class cookery challenge. I have served it the traditional way with neeps and tatties. Haggis is regularly the first topic of conversation with our ESOL students who have just arrived in Scotland – many are keen to try it but others are put off when they learn what it is made of!
Agnieszka Zanko from Poland
I have made traditional Polish dumplings called pierogi. Dumplings are very popular in Poland, using an ancient recipe. It is said that they came to my country from China, where dumplings are prepared with cabbage, called jiaozi. In Poland, dumplings are an everyday food prepared for the main meal of the day. For special events such as on Christmas Eve, we make them with sour cabbage and wild mushrooms. In modern Polish cuisine they are made with different fillings, some very oriental and exotic.
Anabela Parker from Portugal
The dish that I have made is called bifanas à moda do Porto and it is made of pork cooked in a very special spicy sauce made with tomatoes, garlic, white wine, oil and cumin. After making the sauce we let the pork cook for a long time so that it becomes tender and breaks into pieces. This is traditional in Oporto and is usually served in a crusty roll and dipped in sauce. You can eat it any time, but it is a dish that is always present at traditional city festivals like S. João, which is a very big party that happens in June it the city of Oporto. It is easy to make although we tend to do it when we invite people over for a gathering or a celebration. For me personally, this dish brings back happy memories of summer and celebrations with friends back in Portugal.
Monika Bernack from Poland
I have prepared Żurek. It is a traditional Polish sour soup and used to be eaten only at Easter, but now is on the menu all year round. It is based on zakwas. Zakwas is made from rye bread and water. In Poland you can buy zakwas in bottles in supermarkets. Żurek can be thin and delicate or stuffed with chunks of ham, sausage and potatoes—in which case it is really an entire meal. The Easter version always contains white sausage which is similar to German bratwurst and hardboiled eggs. At Easter time I usually serve zurek in homemade bread.
Hana Schejbalova from Czech Republic
This is a photo of traditional food of the Czech Republic which I have cooked. The Czech name for this dish is svíčková s houskovým knedlíkem. It is made from cooked meat, vegetable sauce and dumplings.
Lara Alsayed from Syria
My first traditional Syrian dish is bulgur with vegetables. It consists of bulgur wheat and different types of chopped vegetables and herbs (onion, parsley, mint leaves, garlic, tomato, chickpeas, red and yellow pepper) cooked in a mixture of tomato paste and pomegranate concentrate juice.

The dessert is called Garabij, which is very special and often eaten during Eid, which we recently celebrated in my country. It consists of pastry made from semolina, mixed with gee and stuffed with walnut or Aleppo pistachio which is then baked in the oven. It is then dipped in a sugary sauce consisting of whipped egg white mixed with very hot sugar syrup.
Renata Krawczyk from Poland
I have made traditional Polish bread, as this is what I miss here in Scotland: the taste of Polish bread, from my favourite baker's. There were more than 20 baker's shops in the city where I grew up in Poland, but for as long as I can remember, only two of them really mattered; these were the two leading baker's which were always at war with each other! One introduced brioches to the market, then the other made butter brioches, and then this first made butter brioche with chocolate filling, then his opponent baked butter brioche with chocolate filling and orange zest on the top. It was a never-ending story! The most important product in a Polish bakery is bread and both bakers did their best to win! All residents of my city divided into two equal parts. Half of us bought bread from the first baker's, the other half from the second, but never in both!
Sophie Koch from Germany
My dish is a type of beef goulash with carrots and onion. It is normally accompanied by dumplings, which are very traditional and are usually eaten in Bavaria and east Germany on Sundays. This dish reminds me of how we always ate the leftovers of the stew on Mondays!
Ruth Tadi from Germany, with Congolese and Angolan heritage
The meal that I prepared for this challenge isn't strictly Congolese/Angolan nor German, but a dish my mum used to prepare for me and my siblings growing up, in other words my absolute favourite comfort food! It is made with sardines, pasta and mayonnaise.
Ayse Hyuseinov from Turkey
I have baked a Pide, which is a Turkish flat bread, baked with toppings in a stone oven. It is very popular throughout Turkey. The base is similar to pita, chapati or a pizza crust. Pide can have various toppings; some favourite toppings are ground meat & onion, Turkish kasar (Cheddar cheese) and spinach, cheese and pastrami (Turkish dried beef), cheese and Turkish spicy sausage (sucuk). Sometimes an egg or two can be cracked over the pide towards the end of baking such as for the Karadeniz Pidesi, a specialty prepared in the Black Sea region. The cultural tradition of Pide is that it is the main food that brings people together. It is served during social gatherings such as celebrations with family or friends or funerals. In Rural Anatolia, locals prepare the filling themselves and take it to their local bakery, to be baked for them into delicious flatbreads, because it is more tasty and crispy when it is baked in a stone oven. There are also "Pideci" which means Turkish flat bread shops that only bake and serve these flat breads.
If you are interested in improving your English language skills then our ESOL courses will help you achieve your goals in study, work or everyday life. You can study a range of levels during the daytime or evening. Find out more and apply.